"In the name of God, stop a moment, cease your work, see what's around you."


Leo Tolstoy

 This Sunday

Scripture Readings:

Rev. Herb Taylor will be preaching at the 10:00 a.m. service:

Worship Services

10:00 a.m. Summer Worship Service, including Communion  (Worship Services return to 9:00 a.m. and 11:00 a.m. on Sept. 13, 2015)

Choir Rehearsal  (Resumes September 13, 2015)

9:00 a.m. (downstairs)

10:10 a.m. (sanctuary)

  Christian Education (Resumes September 13, 2015)

10:00 a.m. with classes for all ages:

– Toddler/Pre-school class (Downstairs)

– K-5th grade class (Downstairs)

-After the Children's Message midway through the 11:00 a.m. service, children in third grade and below are invited to Children's Church. They will hear an engaging story about our church history or the cycle of the church year, eat a snack and then complete an activity together. (Vestry)

– Confirmation Class (Balcony of Vestry)"

– Adult Forum (Library)    

Message From Pastor Herb Taylor

Hello from Herb,

As we approach Labor Day weekend, I wanted to celebrate with you some recent work done at the church to repair the front entry and front side steps. In the past, you may have noticed mortar missing and gaps that had developed over the years between and around the stone steps. These steps were repaired and re-pointed this week by a gentleman who knows them well since over the last year he has often slept on them. Mike B. has found himself on the streets after working for over 20+ years at a company. He is a great guy who I have come to know well over the year as I visit with him every night I leave the building. He has many skills and talents and because he has a great deal of experience in masonry work he enthusiastically volunteered to take on this job. He did fantastic work and they look great. I am also happy to say he reluctantly accepted my decision to pay him for his work. Keep Mike B. in your prayers, as we are both hopeful that he may be getting both a job and an apartment in the coming weeks.

Mike is just one example of many hard-working men and women who lose their job and find themselves in the midst of challenging times. On this Labor Day let us continue to pray for those who are unemployed or underemployed, who work in unfulfilling jobs, or who work in difficult conditions. Our church is blessed with a ministry that offers God's love and light to people who struggle in many ways. Thank you for all the ways that you enable and empower our church to be there for those who just want to know that people care and respect them.

As we move into the Fall, I am filled with excitement about our ministry together and am so thankful for all those who joyfully labor so that God's love, hope and joy is shared through our ministry. You can feel the possibilities that God gives us to grow both as individuals and as a church in the year ahead. In that spirit, I look forward to joining with you in talking about our vision as a church in small groups starting on Sunday, Sept. 20th at the parsonage. Your input and insight are important to this process as we look forward to where God is leading us so please sign up.

The visioning process will give clarity of purpose to our expanding ministry and help to guide our actions. As we take these steps together we will discover how "vision is a gift from God. It allows us to see beyond the visible, beyond the barriers and obstacles to our mission. Vision 'catches us up,' captivates and compels us to act. Vision is the gift of eyes of faith to see the invisible, to know the unknowable, to think the unthinkable, to experience the not yet. Vision gives us focus, energy, the willingness to risk." (Bishop Rueben Job) It is our vision, developed together through God's help, which will lead us forward in the year ahead.  

See you in church…10 am this Sunday and then on Sunday, September 13th we are back to 9am and 11am.

Yours in Christ

Rev. Herb Taylor

Pastor

Sunday School Returns!


Sunday, September 13th at 10am: All classes will meet together in the basement classroom for a Godly Play lesson.  It is going to be a fun and fantastic time for all.

Adult Forum Returns! 

Adult Forum returns

a week from Sunday! We meet each Sunday  at 10am in the library, all are welcome.  Topics for the coming weeks include:

September 13th: Welcome Back! Join Pastor Herb, Graham Kelder and Kevin Nelson to discuss Income Inequality and Interfaith Worker Justice

September 20th: Racial Justice with Matthe Allen, ACLU's Public Advocacy coordinator and Carol Williams, Staff Attorney.

September 27th: Explore the Spirituality of Fundarising by Henru Nouwen with Pastor Herb and Tom Akbari, Chair of Stewardship Committee.

Faith Sharing/Faith Seeking Group Returns!


Sunday, September 13th at 8:00am, we will meet in the basement. The topic of our discussion will be generosity.

 

Men's Breakfast 

The

Men's Breakfast Group

will meet on Tuesday, September 15th at 7:30 a.m. at Andy's Diner at 2030 Massachusetts Ave in Cambridge near Porter Square.  

Women's Group Potluck

The next Women's 

Group

 Potluck

 is Thursday, September 17th at 6:45 p.m. at the home of Nancy Hayes Bevington. All women of the church are welcome to this fun evening of fellowship and delicious food. Contact the church office or Katie Carlone (katie.carlone@gmail.com)

 for more information and Nancy's address.

 

Small Group Visioning Meetings

Please sign up for a small group meeting at the parsonage to talk a

bout the vision for our church.  Herb is inviting groups of 10 people to sign up for each meeting and hope you will be able to come.  Either sign up for a date/time on the sign up sheets at church or email the office at

office@he-umc.org

. Small groups will take place at 6:30 and 7:30 on

Sept. 20, 21, 22, 27, and 30.

  Let us know which time and which date you would like to take part in.  It will be a fun and informative time with an opportunity to meet others from the church and to share in providing input to this process.  Your insight is important so please sign up.  Thank you!

Local Needs Special Offerings on Sundays in September

As is the tradition of Harvard-Epworth UMC, on each Sunday in September people are invited to make a separate mile gift to support our church's commitment to local needs.  We support many local organizations financially that impact homelessness, hunger, education, and more.  Consider making a special second-mile gift in September to enable us to make a difference in our city and surrounding area.

HE UMC Book Club

July 2005. In the Pyrenees mountains near Carcassonne, Alice, a volunteer at an archaeological dig, stumbles into a cave and makes a startling discovery-two crumbling skeletons, strange writings on the walls, and the pattern of a labyrinth. 

Eight hundred years earlier, on the eve of a brutal crusade that will rip apart southern France, a young woman named Alais is given a ring and a mysterious book for safekeeping by her father. The book, he says, contains the secret of the true Grail, and the ring, inscribed with a labyrinth, will identify a guardian of the Grail. Now, as crusading armies gather outside the city walls of Carcassonne, it will take a tremendous sacrifice to keep the secret of the labyrinth safe.

You are invited to join us on Thursday September 24th at 7pm in the Vestry to discuss the first part of Labyrinth by Kate Mosse, 'The Cite on the Hill.' We will just discuss this first part- there will be no spoilers!

We will finish reading the book with part 2,'The Guardians of the Books' and part 3 'The Return to the Mountains' on Thursday October 15th also at 7pm in the Vestry.

Plenty of copies are available through the Minuteman Libraries Network too.
Holy Land Pilgrimage/Study Journey
Pastor Herb is planning on leading a 10 day journey to Israel & Palestine, departing Boston on 17 April 2016. The journey is organized through The Society for Biblical Studies (www.sbsedu.org). The 10 day journey will introduce participants to the geographical, historical and cultural backgrounds of the Old and New Testaments. Much more than a tour, it will also include conversations with Israelis and Palestinians of the three monotheistic faiths. The journey will include visits to the most important historical and spiritual sites in Israel-Palestine such as the Church of the Nativity in Bethlehem, the Old City of Jerusalem and the Sea of Galilee. The price of $3,297 includes most expenses like r/t airfare from Boston, lodging, two meals daily, ground transportation and site entry. If you are interested in joining the journey or finding out more about it, contact Herb at pastor.herb@he-umc.org
or come to an informational meeting–now tentatively scheduled for Sunday September 27 after the 11am service.
        Food Collection: Consider Donating
There are two boxes in our narthex area where we collect food for "Food for Free", a Cambridge Food Bank.  Please consider bringing in an item when you come on Sundays to help those who make use of this important service.
Check Out The New Harvard-Epworth App!
Available free on the Apple App Store and the Google Play Store, the heumc app provides quick access to Harvard-Epworth's electronic giving page, contact information, and sermon podcasts.  Try it out and let us know what you think.  Please contact wbrown@cfa.harvard.edu and thomas.mikejohn@gmail.com.
 ——————————————————————————————————
Also free on the Apple Store, Herb's sermons are now available as podcasts.  You can access them on our website or through ITunes, by clicking on the picture below:
If you do not have iTunes or an Apple device, you can subscribe via RSS at:
      Consider Giving Electronically 
We can now give money to Harvard-Epworth electronically using the service "Pushpay."  Pushpay offers a clean and speedy interface, accessible from the heumc app, the Giving tab on the Harvard-Epworth home page, or by texting heumc to 77977.  Giving online is simple and secure. 
Pushpay is Level 1 PCI DSS compliant, which is the same certification that your bank has. 

The first time you make a donation, Pushpay will generate an account based on your email address to remember you for the future.  
ACH bank transfers and credit cards are accepted, however bank transfers are vastly more cost-effective to the church.  We strongly encourage members to choose the "give from bank account" option, which is the electronic equivalent of making a contribution by check.  We also encourage using the comment field "Please Specify if Needed" to distinguish a special donation from a pledge, the same as the memo line on a check.  We welcome your feedback as we enter the modern age of financial transactions.  Warren Brown <

wbrown@cfa.harvard.edu

> on behalf of the H-E Finance Committee.
Help With Lunches At On The Rise
On The Rise, a day program for homeless women, creates a community where women have the relationships, safety, and resources they need to move out of homelessness.  They have worked with Harvard Epworth for many years and  engage with those most in need and support their initiative and strength as they move beyond crisis and discover new possibilities. Below is a message from them regarding their current needs and an opportunity to help:
On The Rise has a wonderful volunteer community who make and deliver hundreds of lunches annually to our doors, but the summer months prove to be a challenge due to vacations.
Between now and the end of September, there are 30 gaps in our lunch calendar – can you help us fill them by providing a healthy lunch?
>The quick and skinny: Read our lunch guidelines at http://ontherise.org/makeLunch.htm and then go to https://www.mealtrain.com/trains/mc0obogip67t to create an account with Meal Train, a platform that helps us organize lunch deliveries and allows you to sign up easily.
Lunch from you ensures homeless women have survival essentials available to them at On The Rise.  Thank you for allowing us to be a reliable resource to hundreds of women.
Local Conference: Christians and the Holy Land 
The Society for Biblical Studies is putting on a Conference on Sept. 17-19 on "Christians and the Holy Land:  What Does the Lord Require?" in Lexington.  Peter Miano, who is the Director of the Society for Biblical Studies and who attends our church, has invited anyone from Harvard-Epworth who would like to go to any part of the conference to attend for free.  If you are interested, click on this link  and find out more about the Conference.  

For those arriving before 10:00 a.m. on Sunday morning, there is usually ample parking on the street. For others, we have procured parking passes for the Littauer parking lot. This lot is accessed via Oxford Street (entrance beside Engineering building and across from Natural History Museum).
You may get a one-time pass for a Sunday morning or apply through Harvard Parking for a permanent (renewable every June for the next academic year) Sunday parking pass. Application forms for permanent passes are available at the usher's table (or by contacting the church office) and have instructions attached for completing and submitting the form.
Please reply to this e-mail or phone the church office (617-354-0837) if you would like a pass to park in the Littauer lot this Sunday.
Coffee Hour
Please conside
r signing up to provide refreshments for coffee hour after the 11am service.  This is an important time of fellowship and connection, and a great way to provide for your church family.  More than one person can sign up for any one week.  The sign up sheet is on the board in the narthex.  Thank you for considering volunteering in this way.
Altar Flowers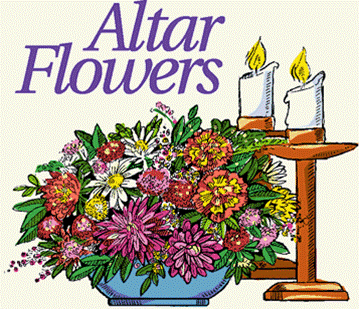 Please consider providing altar flowers on a Sunday in 2015 to honor or remember a loved one.  Sign up for a specific Sunday, one that may have a special meaning for you, on the Altar Flower Chart on the board in the Vestry, and see the instructions there.  Or, you can call the church office or email at office@he-umc.org to sign up.
Harvard Epworth Facebook
Please consider becoming a fan of our Facebook page
("Harvard-Epworth United Methodist Church") for up-to-the-minute information on services, events, and projects. If you are already a fan, please invite any friends you think would be interested!
Prayer Ministry 

Each Wednesday morning, some of the Harvard-Epworth congregation gather by phone for meditation and 
prayer. This gathering is a wonderful way to begin the day and to hold the concerns of our congregation in prayer.
The meditation and prayer begin at 7:45 a.m. and conclude at 8:00 a.m. All are invited and welcome to join in this mid-week gathering. People dial-in from bed, from the breakfast table
, and occasionally even from an office or out of town. You are free to state your prayer needs, or not to say anything at all but rather dial-in and listen. To join the call, dial: 712-432-1690, a voice will prompt you to enter code: 658031#.
We have found this time a wonderful way to begin the day and invite you to join us!
Looking Ahead
Sunday, September 13: Regular Schedule Resumes (two services, 9:00am and 11:00am)

Christian Education Resumes (Sunday School, Adult Forum, 10:00am)
Faith Sharing/Faith Seeking Group meets (8:00am, basement)

Tuesday, September 15: Men's Breakfast
Thursday, September 17: Women's Group Potluck
Sunday, September 20: Small Group Visioning Meeting
Monday, September 21: Small Group Visioning Meeting
Tuesday, September 22: Small Group Visioning Meeting
 Thursday, September 24: Book Club
Sunday, September 27: Small Group Visioning Meeting
Wednesday, September 30: Small Group Visioning Meeting
If you have church related announcements that you would like to have appear in this email and/or in the bulletin, please email them to office@he-umc.org.  Thank you! 
//